WARNING: This contains spoilers.
Horror is a genre that rarely gets much, if any, recognition from Hollywood at all – usually most cinema-going people and executives treat the entire genre much like how many treat professional wrestling – a entertainment style that is assumed to be for only uncultured people to watch. Well, that was until recently, when we started seeing yearly Arthouse horror films getting all sorts of buzz from the staunchest Hollywood suit. Films like Jordan Peele's Us, and Get Out as well as Ari Aster's Hereditary seemed to prove that horror could be done in a way to almost make it into the award scene. I have enjoyed most of these films despite the relative over-hype in the media, so I was excited to see what was coming next.
I'm not going to lie, I was initially worried, of not annoyed by the original trailer for Midsommar, the newest film by the aforementioned Ari Aster. I even wrote an article based solely on the trailer and everyone's reaction to it making me nervous. I feel very strongly that Pagans are the low hanging fruit of easy targets to demonize in films, ranked almost as high as Russian mobsters and Satanists.
Examples of this trend are The Wicker Man (Celtic Reconstructionists / possible Neopagans depicted as a human sacrifice cult). Halloween III (Same as The Wicker Man, but worse because it's on a sacred Celtic festival). The Serpent and The Rainbow (multiple voodoo stereotypes all rolled into one). Pet Semetary (Druidic magic is only good for raising the dead to do your bidding). Drag Me to Hell (Romani people, or pejoratively Gypsies, are willing to feed people to demonic abominations if wronged). And that's just a few films out of the hundreds like this.
Thankfully, I was wrong about Midsommar.
The film centers around an American couple, Christian and Dani, that seem to be having troubles in their relationship. Dani has just gone through a hash family trauma, and has little help from her boyfriend, who actively is seeking a way to end their relationship mostly due to his college friends trying to tempt him into leading a far more promiscuous lifestyle more to their needs. Hoping to get some relief, the pair decide to take an offer for a vacation in Sweden with their friends, Mark and Josh, hosted by a Swedish transplant named Pelle to a small village that is hosting a festival held once every 90 years. Unbeknownst to them, the festivities are not exactly within their cultural wheelhouse.
I spoke early about my fear of the demonization of the rural Swedish Pagan characters in the film, but they really aren't the bad guys. If anything, Christian and his friends (especially Mark) are far worse, and most of the movie was spent, for me at least, was waiting for them to get their comeuppance.
We also are not 100% sure what the beliefs of the actual villagers are. Like most folk horror films, Midsommar borrows from here and there, and tries to keep it deliberately vague. We can make assumptions based on the fact that the number nine pops up a lot, and the use of Elder Futhark runes, that these people are the remnants of some sort of Norse Pagan group that somehow escaped Christianization or reverted back at some point. This is never really talked about in the film, as the events really don't open up room for this sort of dialog. People well versed in the motifs of what we presume to be Viking religion can definitely pick up on "Easter Eggs".
While I can assume that all of the deaths in the film would have likely happened anyway considering that the brothers Pelle and Ingemar were specifically told to bring back people to be sacrificed, I'm not sure it would have happened the way it did. For example, two characters tried to flee the compound vowing to "call the cops" after witnessing a cultural "rite of passage" wherein everyone that reaches the age of 72 commits ritual suicide. Mark spends the entire film lusting after women and urinates on an ancient tree that is seen to house the souls of all of the village's ancestors. Josh is seen taking pictures of a sacred text from the group despite being specifically denied doing so. and Finally, Christian spends the entire film basically ignoring his girlfriend, and betrays Josh in order to work on his college thesis about the village despite knowing Josh was going to do so as well. These characters made themselves embody, greed, lust, and evil – all things anyone would abhor.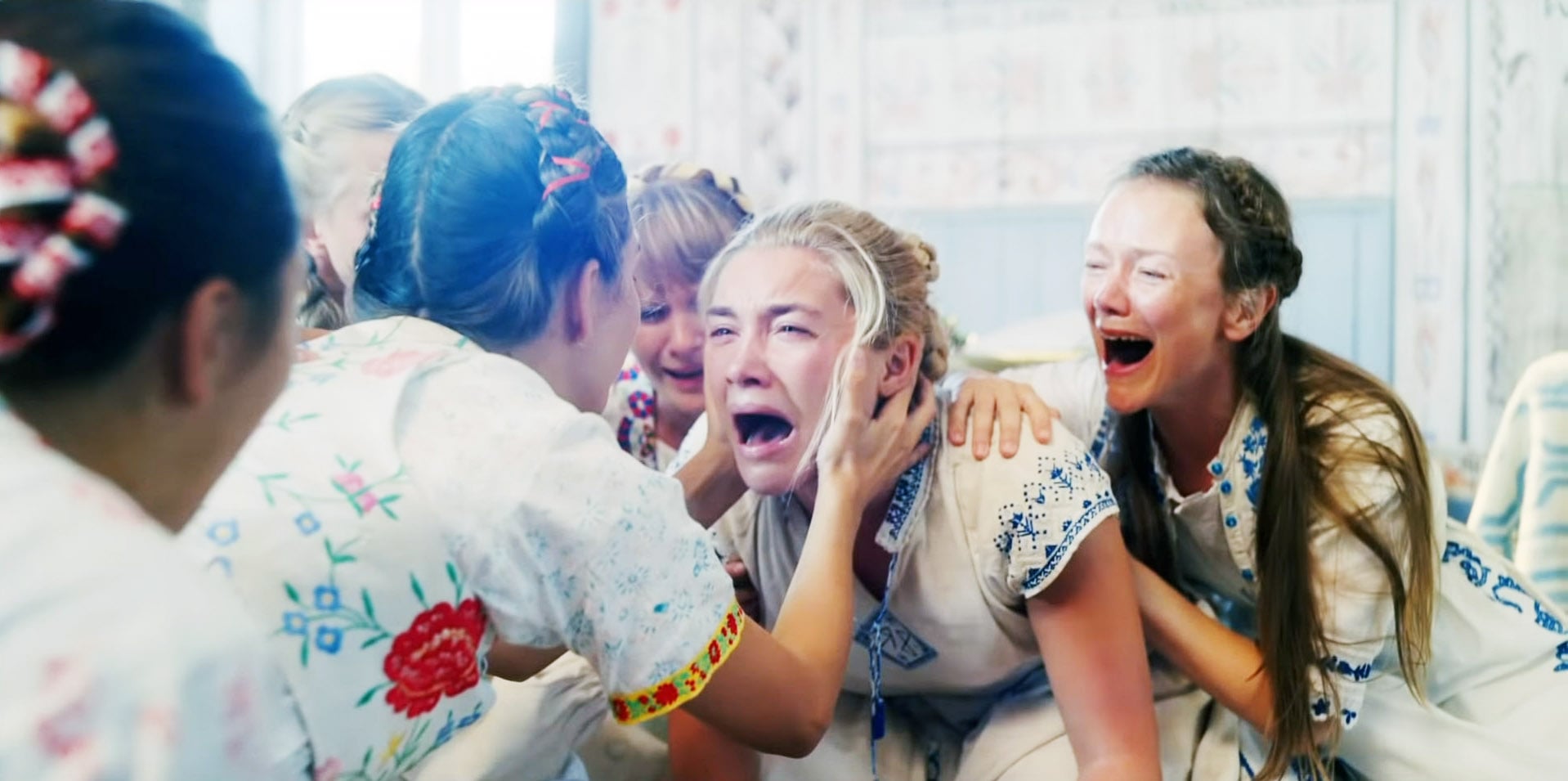 The whole film is a study in coming face-to-face with cultural relativism. By judging the village's actions that are seen as holy and traditional as being evil one could come away with a sense that the village are the villains, but the film handles the ambiguity so much better than films such as The Wicker Man, as it avoids the preachy modern know-it-all character that tells everyone off before getting covered in bees and burned alive ala the aforementioned film. I can't really say none of the villagers acted in malice, as they did manipulate Dani to such an extreme that she seemingly suffers a psychotic break at the end of the film, but everyone that dies are bad people for various reasons. it's a tough situation Aster has put the audience in – who's the bad guy here?
For me, the film has a happy ending. In many ways Dani is the happiest that we know her to be at the end of the film. Her family was all killed in a shocking murder-suicide by her sister months before, so she's not exactly on a level playing field going into the events. Pelle steps in to be the love interest that she needs, a man that is going out of his way to check on her and make sure she's okay and can relate to her plight. She is accepted into the group, and allowed to be happy for the first time in her life. In the final thirty minutes of the film, she is crowned the May Queen of the festival and paraded around town like a living goddess – she is given purpose in life for the first time, feels accepted and loved. When she witnesses Christian cheating on her, albeit coerced, she is quick to choose him to be the final sacrifice of the nine to be given to the gods. At the end of the film, as everyone that wronged her is burning inside a wooden pyramid, she smiles. She is home. Her past life is dead.
The juxtaposition of the bright happy setting and the disturbing deaths is very off-putting and far more scary than what happens in many actual horror films. I can see why some horror fans would not like the film as it was presented as a hard horror movie, and its honestly more of a thriller or drama film with a VERY shocking final act. This isn't too far from how Aster's previous film, Hereditary, was viewed by many.
I loved Midsommar despite my previous misgivings about my perceived reaction to the film. It is artistically a beautiful film, a VERY disorienting film, and just shocking enough to have power without being gratuitous like slasher films.